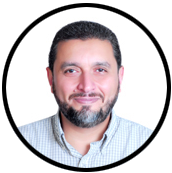 Director, IUP Institute for Cybersecurity
Professor, Computer Science
Dr. Farag is a Professor of Computer Science at Indiana University of Pennsylvania (IUP) and the program director of several novel initiatives that contribute to the enhancement of Cybersecurity at IUP and the surrounding regions. Details of some of the recent programs that he directs can be found at the respective program website below. Dr. Farag is also the recipient of the 2018, 2020, and 2021 IUP's Sponsored Programs Awards for Outstanding Achievement in Research, Public Service, and Commitment to Sponsored Programs.
EDUCATION
PhD 2002-Department of Computer Science at Old Dominion University, Norfolk, VA
MS in Engineering 1997-Zagazig University, Egypt
BEE 1993-Zagazig University, Egypt
CONTACT ME
E-mail: farag(at)iup.edu
Phone: (724)357-7995
Fax: (724)357-7908
Address: 233 Stright Hall - 210 S. 10th St.
Indiana University of Pennsylvania
Indiana, PA 15705, USA
Please contact me for a copy of my resume.